The Pelican Pub and Brewery proved to be a perfect oasis on the Oregon Coastline. We arrived in Pacific City with a few fellow cycle tourists and all threw in for a luxury RV park complete with a hot tub and warm showers. It was much needed after several days of chilly rain.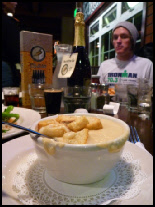 After soothing our sore muscles we headed across the street to the much acclaimed Pelican Pub and Brewery. This hotspot, located on a very surfable break had been recommended multiple times from as far away as Vancouver. A warm bowl of beer cheese soup was just the thing to complement our beer sampler.
Kiwanda Cream Ale - The Pelican's take on a truly American style of beer. This smooth cream ale was surprisingly tasty. The spiced fruit flavor came through strong over the smooth malty finish. It is clear to see why this beer has received so many accolades.
Surfer Summer Ale - Despite our server's enthusiasm for the Surfer Summer Ale we found this brew to be a bit of a flat tire. The flavor was very flat, lacking complexity or boldness. To top it off, there is an acidic taste that permeates the end of your taste palate.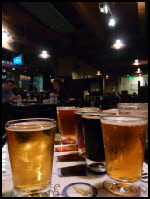 MacPelican's Scottish Ale - We found this interpretation of the Scottish Ale to be too sugary and devoid of flavor. The malt seem to lack syrupy thickness, tasting more like white sugar.
Guillotine Pale Ale - This is your standard Pale Ale with a hint of cardamom. We found this brew easy to drink but not particularly memorable.
India Pelican Ale - The clever name attached to this brew holds up as you can taste a strong hoppiness throughout the beer. However, the balance between the hops and malt was way off, leaving something to be desired.
Doryman's Dark Ale - This brew is smooth, with good balance between maltiness and hoppiness. I would go for a second round.
Tsunami Stout - For a stout the Tsunami gives off a harsh flavor early on. It is still smooth and creamy but not striking and has a bit of spiciness in the finish, but the harshness up front is a real problem.
Location: Pacific City, Oregon, USA
Brews Tasted:
Kiwanda Cream Ale
Surfer Summer Ale
MacPelican's Scottish Ale
Guillotine Pale Ale
India Pelican Ale
Doriman's Dark Ale
Tsunami Stout
Website: http://www.pelicanbrewery.com/