07/31/10- Tomorrow we are

waking up early to try to be one of the few people that make it through the 8AM opening of the Cassiar Highway. The buzz around town is that the road will be opened for a brief period of time in the morning, allowing cars/RVs to slowly follow a pilot car. We'll likely pile our bikes and bags in the bed of the pilot and ride the 80 km to get us safely out of the fire zone.
07/30/10- We've been forced to rest a few more days here in Watson Lake because a forest fire has closed the Cassiar Highway. The good news is, new journal entries for both of us!! Jess has written a piece called Behavioral Economics on a Bike about the motivations and perceptions of experience as we cruise (or plod) down the road. Devon has put together a day by day re-cap for the last couple of weeks of the trip for those who want to hear every little detail (July).
07/29/10- Photos from the last week and a half are up! We have traversed most of the Yukon and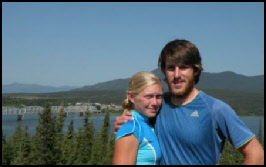 are getting ready to tackle British Columbia. The past week has been a lot of up and down climbing with a strong headwind. Our belly's were satisfied as we changed our eating strategy to include homemade breads and desserts. Nathan, our Couchsurfing host in Whitehorse, was gracious enough to let Jess take over the kitchen for a day.
07/29/10- Book Club - "Broken Spears" by Miguel Leon-Portola
07/28/10- We made it to Watson Lake and will be taking a few days off here to rest before heading South along the Cassiar Highway.
07/27/10- We've reached our first big statistical milestone, 1000 miles! Check out what else has been going on on the stats page.
07/25/10- Riding out of Whitehorse we faced a strong headwind that really wore us out. After 45 miles we set up camp and slept for 12 hours. Before going to bed Jess revamped the Eateries page and Devon started a daily log (to be posted after editing). We lazed around camp for a few hours enjoying our freedom and started riding at noon. The road was rough and lacked a shoulder in some areas, but the weather was perfect. There was very little headwind and the sun was shining all day. We rode about 70 miles and made it to Teslin. After meeting our camping neighbors we strolled into the cafe for a double meat burger and poutine.
07/24/10- Yesterday we wandered over to the Yukon Brewing Company for the afternoon tour and free samples. Check out Devon's review of their selections.
07/23/10- After an awesome breakfast at The Village Bakery in Haines junction we hopped on our bikes with our friends from Wild Spoke. Later that Day we had our first major mechanical malfunction of the trip. We made some quick repairs and arrived in Whitehorse on the 21st. This has been the largest town since Fairbanks so we have taken the opportunity to resupply. The outdoors store downtown had our meals of choice, Backpacker's Pantry. Jess has also made four loaves of bread, two desserts and a Pizza since we've arrived. It is truly an example of binge baking. Tomorrow we will head back down the AlCan Highway towards Watson Lake. It has been raining off and on since we've been here and tomorrow will be no different.
07/20/10- We made it to Haines Junction last night. Here are some pictures from the last couple of hundred miles!
07/18/10- Journal Posts - Jessica's Fueling the Ride and Devon's Life on the Road
07/18/10- Two new reviews up for reads. Check out Fast Eddy's and The Knotty Shop.
07/16/10- Book Club - "Rubbish" by William Rathje
07/16/10- Journal Post by Devon- The Kindness of Strangers

07/15/10- Canada! We crossed the border today and are bedding down in Beaver Creek, Yukon, Canada. Incidentally we stayed next to a Beaver Creek last night in Alaska which ran brown with tannins from muskeg grass and saw a beaver swimming out of his dam today. It's Beaver mania here on the border!
07/14/10- Updated Statistics!
07/13/10- Food Review - Fairbanks ice cream shops
07/13/10- Journal Post by Devon- The First Five Days
07/13/10- Just rolled into Tok, AK, USA! We rode 62 miles from Delta Junction to Dot Lake yesterday only to find out that the Lodge and Campground listed in our Milepost was closed down. Luckily Postmaster Jim let us stay in the abandoned campground. After a fitful night of sleep (the birds were very active) we made it 48 miles and are gorging ourselves at Fast Eddy's. Check out the pictures from Fairbanks to Delta Junction!
07/10/10- Journal Post by Jess- Things Left Behind.
07/06/10- Our Nemo Tent failed us at the worst possible moment. Check out the equipment review for the Nemo.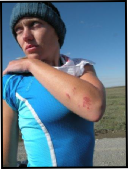 07/08/10- We've made it to Fairbanks, but not exactly as planned. Jess had a rough spill on day one, skinning and bruising her elbow. We decided at that point that as long as the elbow improved each day we would continue to ride. Well at the end of day 5 her elbow began to flare up and became more swollen than the day it happened. We made it to Coldfoot and decided the next morning that it would be best to give her arm a few days off, so we hitchhiked to Fairbanks.
07/05/10- Food Review- Coldfoot Camp Trucker's Cafe!
07/05/10- Five days, 240 miles down. Crossing over the Atigun Pass yesterday and camping at the tree line five miles South of it was a true accomplishment. Today we rode 65 miles in the rain with the Coldhorse Camp buffet in mind. The Interactive Map is up and running now so check out our Prudhoe Bay spotlight and Coldfoot food review as well as other items of interest along the way or check out the Dalton Highway Pictures.
07/01/10- We flew into Prudhoe Bay and set off onto the cold dreary tundra. We saw plenty of wildlife and beautiful vistas while being challenged by incredibly muddy gravel roads. Prudhoe Bay and day one Pictures