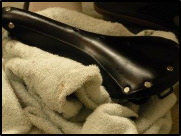 Sometimes things are just better the old fashioned way. Brooks has been producing Cycling saddles for over a century now and they still do it by hand at their facility in England. These saddles are made of high quality leather and arrive stiff as a board. A good deal of patience and pain is usually necessary to break these guys in but eventually the material bends to your will, and buttocks, to form the perfect seat. After that they are said to ride for tens of thousands of miles without significant wear if properly cared for. Click here to see our initial breaking in process using Glovolium Baseball Glove Oil!
Update 6/24/10:
With over a thousand miles of riding on our saddles we are very impressed. The fit feels perfect and neither of us experienced any significant soreness throughout the whole process. We just picked up the Brooks Proofide Treatment to keep our saddles healthy and protected from the elements during the trip.
Update 11/8/10: Though the saddles are showing a bit of age from the elements and inevitable scrapes they have retained their firmness. Jess and Devon are happy to report only five or so days apiece of rear end pain in four months of riding. Also, we are still working through our first can of proofhide, that stuff goes a long way.