Fairbanks is surrounded by beauty on all sides. On a clear day you can catch a glimpse of the peak of Denali "The High One" to the southwest or the Brooks Mountain Range to the north. Home to the University of Alaska- Fairbanks, the city is teeming with young people. On any given day you'll also notice the variety of military aircraft passing over the city travelling to and from both Ladd Army airfield and nearby Eielson Airforce Base. The town is spread wide across the valley making it seem much quainter than many of its size.
People: The city is a mix of workers from the mineral extraction sector, military personnel and students and they all have one thing in common, they love outdoor recreation. We visited during the short summer months and could tell the population was taking advantage of all 24 hours of sunlight. Watersports, hunting, fishing, backpacking, and mountain biking and longboarding are a way of life during the thaw. The residents also clearly enjoy winter sports as there are cross country skiing trails in the city and snowmobiles in many a driveway.
Accommodations: During our visit to Fairbanks we stayed at Go North Hostel for 2 nights. The hostel is the launch pad for adventuring around the area. There are several guides employed by the hostel, with expeditions leaving daily. The facilities include cabin dorm rooms, a teepee, tent camping, a fully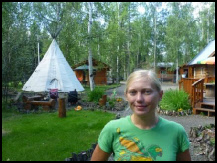 equipped kitchen and a Cyber Space room. Showers are coin operated and breakfast is not included. While at Go North we cooked dinner, made breakfast and baked cookies without experiencing kitchen congestion. The staff was friendly and the hostel was primarily frequented by Europeans.
For the remainder of our time in Fairbanks we did a little Couchsurfing. Our hosts Stacy and Tyler were amaz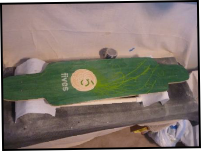 ing. We went longboarding, made dinner, and had the best custard in Fairbanks. Tyler is a cofounder of Fives Longboards and let us see the process of crafting a board. From pressing to painting Tyler and Caleb work hard to produce a unique board for each of their customers.
Attractions: Tours out of town to spot wild game are one of the primary attractions for visitors in the summer, in the winter you'll be scanning the horizon for the Northern Lights.
Local Businesses:
Beaver Sports - This is the place to go for all of your outdoor equipment needs. They did a first rate job giving our bikes a tune-up and helped us find a tent to replace the Nemo.
Hot Lick's Ice Cream - A local favorite with unique flavors, check out Jess's Review
Jorgensen's Frozen Custard - This casual place is run by a good natured teacher on his off months. Read Jess's Review
Founded: November 10, 1903
Population: 35,132
Location: 64°50′16″N 147°42′59″W
Altitude: 446 ft (136 m)