Kona designed the Sutra to be their dedicated touring bike. It is a Chromoly Steel frame with a long top tube and plenty of brazons. It comes standard with Mavic 36 spoke rims for wheel strength, Avid disc brakes for stopping power and bar-end shifters for style and durability. Check here for a full listing of stock components.
We've made a few changes to the stock components outlined below.
Saddle: Brooks B17 for old fashioned comfort and durability.

Crankset: FSA V-Drive 44/32/22 to give me those low gears I'll need to climb steep grades with a serious load.

Racks: Tubus Steel Racks for long term durability. The rear rack required the instillation of steel spacers to accommodate the disc brakes (pictured).

Tires: Schwalbe Marathon HS 700-40 tires for better off road performance and puncture resistance.

Fenders: Planet Bike "Freddy Fenders"

Pedals: Forte Campus pedals which are double sided so clipping in is not required for casual riding.
Details
Price: $850 (Sale)
Weight: 28 lbs (with Racks)
Wheel Size:700 cc
Spoke Lengths: DS 282, Non-DS 284
Update 6/18/10: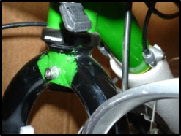 So, we've figured out why they included a bottle of touch up paint along with the Sutra. The paint has been worn down in several places. Straps used to transport the bicycle by car and other repetitive rubbing leaves the frame bare. We haven't had any problems with the Long Haul Trucker and we have done this with bicycles in the past with no issues. This paint is just unusually soft. That beautiful green is just too good to be true.
After almost thousand miles we had our first major bike problem.We set out of Haines Junction at a brisk pace with the Wild Spoke Posse. Forty miles in, after a relaxing break at a creek, Devon yelled that his bike was broken. I dismounted my trusty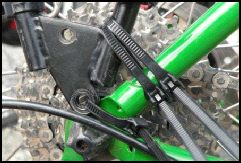 steed to examine the situation. His back pannier had come loose but after repositioning it pedaling still proved impossible. Devon looked back at his cassette, pointing out that the eyelet holding the rack to the frame had snapped off. Without this the rack was resting on the cassette sticking it in place.
As a quick fix we zip tied the rack to the frame and kept moving for another 20 miles. The next day we arrived in Whitehorse and contacted the local Kona dealer, who then contacted Kona. As we waited for Kona to approve the warranty claim the mechanic explained that the shop didn't have a touring bike in stock and the wait time for Kona to ship one is about 5-7 business days. We went to bed prepared to be stuck in Whitehorse for much longer than planned.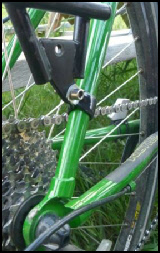 The next morning we received a call from the bike shop with surprisingly good news. Kona had offered to pay for clamps to hold the rack to the frame and allow us to claim the new frame when it is convenient for us. We immediately rode to the shop and the work was complete within 2 hours. It turned out to be the best possible outcome, we get to keep moving and get a new frame.
It is very disappointing that the Kona frame already failed, even in a minor way. The frame is the most expensive part of a bicycle and the only part that truly bears the manufacturer's name.
Update 11/8/10: Due to a particularly rough drop on the Cassiar highway the integrity of my rear rim is a bit questionable. I have had to true it twice since then but surprisingly have not broken a spoke. As we enter Mexico and end up on less comfortable roads I am crossing my finger that this wheel will carry me the distance, though it is a bit doubtful.