We decided to test this innovative tent design. It uses inflatable tubes as opposed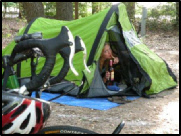 to traditional folding tent poles to form the frame of the tent. This allows for increased pack ability and speedy set-up. The durability of the tubes is obviously a concern, but after reading many reviews and discovering that the tubes are contained within a sleeve of sailcloth we determined that this was a new technology worth trying out.
Failure 7/6/10: This came as a huge disappointment but the Nemo failed in it's first real test. On our third day out we experienced a night of light misting and noticed moisture on the inside of the tent but ultimately attributed it to condensation due to the low temperature. However on day 5 we faced a night of steady rain and were alarmed to find that not only were the seams leaking but the "waterproof" tent material was anything but. The entire inside of the tent was moist and any spots where water pooled dripped constantly. Despite using the footprint designed for the Nemo we woke up that morning to wet sleeping bags.
This was entirely unacceptable as we will be passing through the Pacific Northwest soon and will surly face days of rain. We have already sent the tent back to REI for a refund and replaced it with a Sierra Designs Lightning XT 2 which we will be reviewing soon.