The North Coast Brewing Company is a pioneer of the American craft brewing movement. North Coast began life in 1988 as a brewpub serving three of their four core beers (Red Seal, Scrimshaw, and Old No 38.) and filling small local orders. Their expansion into truly diverse craft beers began soon after they moved to a new facility across the street in 1994. This allowed them to introduce the PranQster Belgian Style Ale and Old Rasputin Imperial Stout. These bold beers went a long way towards inspiring other brewers and developing the palettes of American consumers.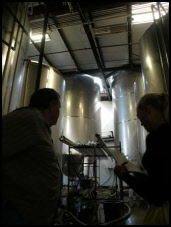 They have experienced strong growth since that time and now distribute nationwide but the expanding demand has not changed their philosophy or commitment to the quality of the product. Their beers are all still made in the same facility despite a few upgrades and bits of remodelling and they continue to develop great new recipes year after year. We were able to taste all twelve of their beers in the taproom after a tour with Vice President Doug Moody.
Blue Star Wheat Beer - This smooth wheat beer brings a very light nose. The taste is linear from beginning to end, with few citrus notes, as one would expect from a wheat beer. The brew is unfiltered so there is a distinctive yeasty aftertaste. Unfortunately, without a strong acidic middle the yeastiness is a bit unpleasant.
Red Seal Ale - The Red Seal is one of NCB's core beers and is clearly loved. So much so that brewmaster Mark Ruedrich has endowed it with his own name. It has a powerful taste which starts spicy with hops appearing in the center and a lingering finish. The complexity of this beer is in perfect balance.
Red Seal Ale Cask Served - The North Coast taproom offers a "cask conditioned" Red Seal Ale. This is an unfiltered and unpasteurized version of the beer served using a traditional English beer engine. No additional carbonation is added to the beer in this process. Needless to say the ale comes smoother, frothier and a bit warmer. While not quite what we are used to, it is a great experience to drink an ale served the old fashioned way.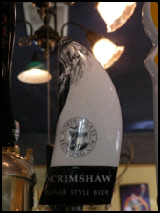 Scrimshaw Pilsner Style Beer - The fruity effervescence of the Scrimshaw hits your nose just as its crisp, tart flavor reaches your tongue. Already one of our favorite bottled beers, we felt that it is even better on tap.
PranQster Belgian Style Golden Ale - The floral and fruity flavor of this beer does the Belgian beer tradition justice. There were hints of banana mixed in with the citrus flavor. This combination lends the beer a perfect aroma. You would never guess this that this tasty smooth beer was 7.6% alcohol by volume.
Acme California Pale Ale - This pale ale had an herb flavored malt. Unfortunately the acidity overwhelms the hops and malts in as the mouth builds.
Le Merle Belgian Style Farmhouse Ale - You'll notice a delightful fizzy tingle on your tongue as you sip Le Merle, NCB's Saison honoring Brewmaster Ruedrich's wife Merle. With a more complex body than most Belgian Style brews, a fruity yet floral flavor comes through.
Acme California IPA - When you grab hold of an IPA you expect to be rewarded with a strong hoppy beer. The Acme IPA, however, lacks the hoppy bitterness you desire from an IPA. There is a strong caramel flavor that dominates over the hops. Based on the quality and craftsmanship of the rest of Northcoast's lineup we expected more than 55 IBU's out of their IPA.
Old No. 38 Stout - The Old 38 is a smooth stout with a surprisingly spicy hoppy flavor and hints of chocolate. It is light in the front and increases in robustness through your taste. We found this stout very unique and interesting.
Old Rasputin Russian Imperial Stout - It is easy to taste why Old Rasputin is NCB's top selling brew. The rich taste of roasted malted grains comes on strong and finishes smooth. You will find yourself craving the rich taste of Russian Black Bread to compliment your beverage.
Old Stock Ale - As Devon put it upon first sip: "You better be ready for this one!" At 12.5% ABV the Old Stock Ale has a strong, almost Bourbon, aroma. We enjoyed the hints of chocolate and malt that came through. It is a true vintage beer which is made with only malts and hops from the year it is bottled. The beer is made to be laid down for a few years to mellow. if you can wait a few years you will find that flavor of malts and oats make this beer even more robust.
Brother Thelonious Belgian Abbey Ale - Brother Thelonious was created to honor the art of jazz and helps support the Thelonious Monk Institute of Jazz The brew is thick with a heavy front and a sweet backside. Rich and malty, we found there to be a hint of spice that blended smoothly with the malty aspects of the beer.
Location: Fort Bragg, California, USA
Founded: 1988
Brews Tasted:
Blue Star Wheat Beer
Red Seal Ale
Red Seal Ale Cask Served
Old No. 38 Stout
Scrimshaw Pilsner Style Beer
Acme California Pale Ale
Acme California IPA
Old Rasputin Russian Imperial Stout
PranQster Belgian Style Golden Ale
Old Stock Ale
Brother Thelonious Belgian Abbey Ale
Le Merle Belgian Style Farmhouse Ale
Website: