Ortileib panniers are the gold standard for long distance touring. They are waterproof, durable and are easy to connect and release from racks. The waterproof bag is sealed by rolling the top down and clipping down the sides. The bags drop down and clip onto our racks automatically and are released by pulling up on the carrying s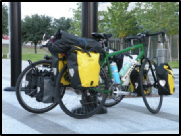 trap. This setup is both convenient and secure. All of the clips are adjustable and Ortlieb Panniers are manufactured by the same people as our Tubus Racks so they are perfectly compatible. We each have four bags giving us plenty of room to fit almost all of our gear.
Update 5/10/10: After returning from the MS170 Jess noticed a dime sized hole in the bottom of one of her rear panniers. It looks like something punched through it, possibly a sharp rock. We contacted Ortlieb but were disappointed to learn that this was not considered a manufacturing defect so we were obliged to purchase a patch kit to repair the hole. It is a little unnerving to have already experienced a problem with what is supposed to be a durable bag, especially considering we were not handling the gear roughly. Hopefully this is a one time event.
Update 9/12/10: Three months in and a new inconvenience arose. The plastic braces running along the inside of the bags where they contact the rack have bowed outward. This makes it slightly harder to mount the bags. In addition it has caused two of the moulded liners which attach inside the clips to prevent rattling to fail. The bags are still useful though and these are really just minor inconveniences. Also the bags have been fully waterproof through several downpours!