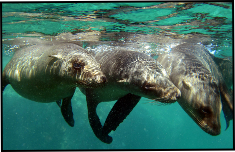 12/09/10- Tomorrow we'll be jumping on the cargo ferry to the city of Mazatlan on mainland Mexico. Here are the pictures from our time Exploring the streets of La Paz as well as an album of our Snorkeling Adventure. Devon also posted a journal entry, Close Encounters, about the experience.
12/08/10- We just updated the stats and have reached some serious milestones! We have bicycled over 5000 miles, climbed 40 vertical miles, pedaled an estimated 2 million times and Devon has been stung by nine, yeah nine, bees. The rest of the day we spent snorkeling in the Sea of Cortez. First we jumped in with a whale shark. Being in the water with a fifteen foot long, four thousand pound beast was an incredible experience. When it turned its two foot wide mouth to face Jess and gave her a little nudge it was no comfort that this was a filter feeder. Then we headed to a sea lion colony. At times there were up to six of the acrobatic playful creatures swimming circles around us. All in all it was a wonderful first snorkeling experience and we look forward to posting a video of the adventure soon!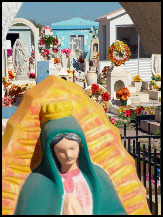 12/07/10- The final leg of Baja was amazing. We spent a rest day in Loreto, the oldest human settlement on the peninsula and former center of local government. The polychromatic cemetery was in stark contrast to the anglo-saxon style. After that we finished the final five days of riding, which included an afternoon spent with some local ranchers who allowed us to trade in our brooks saddles for a more traditional one. Following that we booked it to La Paz where we are hanging out for a few days before catching a cargo ferry to the mainland. Check out the photo album Adios Baja!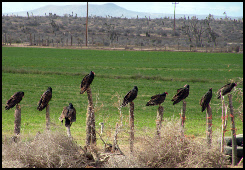 12/01/10- Our latest photo album, Dust and Sand, covers our trip from Guerrero Negro on the west coast of the peninsula to the picturesque beaches south of Mulege.
12/01/10- Five months on the road and we are coming to the end of Baja. After spending a night on the beach south of Mulege we had a long day that left us camping in a windy cow pasture 40 km north of Loreto, Baja's oldest human settlement. The city is beautiful and piping with life. We've spent a day resting up before we had back into the desert for our final stretch of Baja. Water and food will once again be scarce. Luckily our hotel has a grill which we have put to full use fattening ourselves up in anticipation. While you await our next post take the time to read our latest book reviews on "Revenge of the Whale" and "On the Road."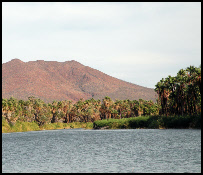 11/26/10- Over the past few days we have crossed the peninsula, arriving at the Sea of Cortez. The first half of the trip was spectacularly easy. It was flat with a ton of tailwind propelling us across broad stretches of barren desert. After two days we arrived at the oasis of San Ignacio. The lagoon tucked in a low ravine supports massive groves of date palms surrounding a quaint mission town. We spent an afternoon in the town square and then a night surrounded by the palms. The final day to the coast we experienced the other side of the convection air currents that helped us the previous two days. Winds gusting up to 30 mph from the northeast slowed our progress to a crawl as we crossed a flat twenty mile stretch to the shadow of Volcan Tres Virgenes. At one point one of our companions was blown off of the edge of the road! Today we will be heading south down the coastline from Santa Rosalia to near Mulege.
11/22/10- One of our photos has ben featured as the Adventure Cycling Association's 'Photo of the Week' for the second time in two months. It is an epic shot near Big Sur with Devon looking down on the fog banks rolling in from the Pacific. Check it out!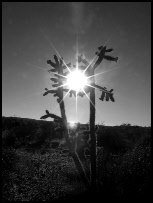 11/22/10- Whizzz!! This Internet connection is great! We have uploaded our pictures from the desert. Check out the album Desert Solitaire for pictures of overturned semis, cacti filled horizons and much more. We are going to explore Guerrero Negro today, pick up some supplies, wash some clothes and maybe make it out to the salt flats. Look for more updates tonight.
11/21/10- Welcome to Baja California Sur! After several days in the desert we have made it to the booming town of Guerrero Negro, just south of the 28th parallel. With 16,000 people it is a welcome change from the remoteness of the central peninsula where we carried more than a days worth of water at a time and found that the dots on our map represented little more than a single family running a combination restaurant/tire shop. Still, the scenery was incredible! For now here are our pictures covering the dusty towns from Ensenada to San Quintin.
11/15/10- After 6 hot days of riding we are taking a rest day in San Quintin, which is still in the Northern section of Baja. Our sleep schedule is right in cue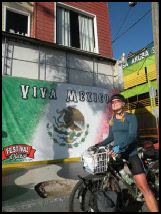 with the sun. Even on our rest day we only managed to sleep in until 6AM. We've tried to get most of our miles in before the heat of the day but with the dust, road debris and narrow lanes it is hard to make good speed. On the plus side, frequent taco stands offer cheap fresh snacks. We have one more day or riding before we head into the central desert of the peninsula, and presumably out of contact for a few days.
11/12/10- Success! We uploaded our first round of pictures from Mexico. Enjoy, we are heading into a much more remote part of Baja next so it may be awhile before we get any updates in. Tijuana to Ensenada
11/12/10- One hundred miles into Mexico and we are already seeing beautiful sights! We took a side trip to the peninsula south of Ensenada to check out La Bufadora. After climbing for several kilometers we glided downhill to a 30 meter blowhole! Pictures to come once we find a strong internet connection.
11/10/10- We just ran the numbers this morning and we have topped 4000 miles and 30 miles of vertical climbing for the trip! Statistics
11/9/10- Welcome to Mexico! Today we rode from San Diego to Rosarito, Mexico. This was a last minute decision that worked out perfectly. Our original plan was to cross into Mexico through Tecate. We were about to turn inland to Tecate but the taste of Mexico was too close to pass up crossing the border today. Our cycling friends made the trek the day before and were waiting for us in Rosarito with a place to stay. Trusting their judgement and route we turned south. As we approached the border a cyclist approached us. His name was Jose and he provided us with the confidence we needed to breeze through customs. Jose works for the "Club Sierra" of Tijuana, which is currently focusing on bicycling advocacy. We've put together a farewell album of photos from Venice, CA to the Mexican Border.
11/8/10- We just got back to San Diego after a weeklong whirlwind trip back to Texas. It was wonderful to see all of our friends and family at this point in the journey. Tomorrow we will be heading to the border and into Mexico for our next leg of the journey!
11/5/10- Check out Jess's review of The Corner Cafe in Los Olivos California!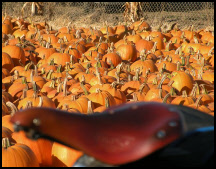 10/31/10- Happy Halloween! To celebrate the month of October we've put together 2 albums highlighting our time from the Bay Area to Santa Barbara. Enjoy the Bay Area and Central Coast and from the Monterey Bay Aquarium to Santa Barbara!
10/17/10- Southern California is rolling by as we make our way to LA. We enjoyed the fall spirit at the Pumpkin weighing contest in Half Moon Bay, and were hosted by fellow touring cyclists in Santa Cruz and San Luis Obispo. In between we checked out the Monterey Bay Aquarium and braved the foggy cliff sides of Big Sur. We are currently in Santa Maria, smack in the middle of strawberry country. Our laptop has become pretty decrepit over the past week but we will try to continue posting until we are able to replace it. Till then enjoy Jess's latest post on the Warm Showers hospitality site which has really made this part of the trip special!
10/08/10- We are having a great time here in SF seeing old friends and getting super soft. Getting back on the road in a couple of days may be a bit trying. Jess put in some time this morning writing up some food reviews for The Mendocino Cookie Company and others while I finally posted a review for The Catcher in the Rye.

10/05/10- Two days ago we relocated to San Francisco for another few days of resting and seeing old friends. Crossing over the Golden Gate bridge and bringing the trip home to where we first got this crazy idea felt great!