Whether entering by car, ferry, bike or foot Seattle buzzes by. Homegrown national brands like Starbucks and R.E.I and yet to by discovered local creations fill the city blocks. Like the other great cities in the US there are well defined neighborhoods, each with their own flare, to experience. Still, despite the many tourists wandering the city streets you get the feeling that Seattle hasn't lost its local focus.
The city is well equipped to handle bicycles, as one would expect after seeing a hundred cycling commuters disembark a morning ferry. With bike lanes and routes glaringly obvious we found it easy to explore Seattle during our three days in town. The bike route maps are free and you can pick one up at any cycling shop. Be warned, wandering off the bike routes can lead to some back-breaking climbs.
Attractions: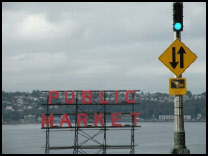 Pikes Place Market is located on the waterfront in downtown Seattle. Historically this bustling area was used to unload Pacific fishing fleets and cargo ships. Now it is primarily a tourist trap, but still worth a glimpse. The market is mostly filled with craft vendors, fruit stands, and restaurants but fresh seafood can still be found. It is also home to the first Starbucks ever, which is ever-brimming with gawking tourists.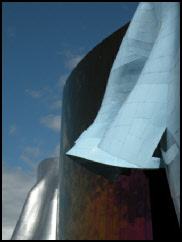 The home of Jimi Hendrix and the 'grunge' movement of the 90's wouldn't be complete without a museum specifically dedicated to music. The Experience Music Project is the brainchild of Microsoft co-founder Paul Allen. It includes interactive exhibits that trace the roots of rock and popular music. The intriguing building is also home to the Science Fiction Museum and Hall of Fame. At the foot of the Space Needle it is a must-see for anyone visiting the city.
The University of Washington brings thousands of new students to the area each year. Constantly infusing the city with a youthful vibrance. Sitting on Lake Washington, the university is just a 20 minute bike ride from downtown Seattle. The amazing architecture of this sprawling campus is wonderfully displayed amid plenty of greenery and space.
Local Businesses:
We spent three days in Seattle, so there was plenty of time to get some work done on our bikes and enjoy the foods and beverages the city had to offer.
Victrola Coffee Roasters - Enjoy Jess's full review of this local favorite!
Elliott Bay Bicycles - These guys specialize in classic bicycles. The shop is full of some classy rides restored to pristine condition. The co-owner also makes his own "Davidson" custom fitted and in a variety of materials. They were able to provide Jess with a heavy-duty kick-stand to replace her long since broken click-stand.
Top Pot Doughnuts - Seriously... Seriously tasty doughnuts. Old fashioned in a variety of flavors.
The Pike Brewing Company - Just south of Pike Place Market, this place is still owner operated and full of choices. It is a good place to take a break after exploring the market, though the brews get mixed reviews.
Seattle, WA, USA
Founded: December 2, 1869
City Population: 617,334
Urban Population: 3,407,848
Location: Pacific Northwest